Farm to School is the practice  in which schools buy and feature locally grown, farm fresh foods such as fruits and vegetables. In addition to fresh produce, this program includes educational components such as school gardens, farm field trips, and cooking classes. Farm to School improves the health of children and communities while supporting local and regional farmers.
Incorporating Farm to School produce into our daily menu is one of Nutrition Service's biggest passions. With such a wide variety of local and organic farms in both San Diego and central California, it is our goal to introduce as much local/organic produce to our students as possible.
We are proud to announce that Sweetwater UHSD was the only district in San Diego County to receive the coveted USDA  Farm to School Planning Grant for the 2013-14 school year!  This grant will help the district to expand school gardens and implement more farm to school produce into our daily menus. It is our goal to make Farm to School an everyday part of Sweetwater culture.
Produce and Locally Sourced Products:
So where does our produce come from? The produce served on our school menus can be classified by the distance they are grown from San Diego County:
Local: sourced within 25 miles of the San Diego County Line
Regional: sourced within 250 miles of the San Diego County line
California Grown: grown and sourced from within California
Sweetwater UHSD sources from two major produce distributors, providing the freshest local and regional produce: American Produce and Food For Thought.
American Produce Distributors are based locally in Chula Vista and source from farms around San Diego county and Southern California to provide the freshest produce possible. American provides the freshest products by delivering on a daily basis and sourcing locally whenever possible. A local farm in Vista that American works directly with is Sunrise Farms, providing Sweetwater with a variety of fresh citrus fruits like Oranges,  Minneola Tangelos, Tangerines and lemons.
Food For Thought is a central California produce company bringing the highest quality fresh produce into schools to help students eat healthy and learn better. Food For Thought partners with small, family-owned California farms that share their commitment to student health and nutrition. This partnership enables Food 4 Thought to provide our students with the freshest fruits and vegetables — grown, picked and packed in student-sized portions — using little to no pesticides or artificial waxes. With the motto of "healthy foods for better learning," Food For Thought wholeheartedly supports the evidence that "show that students who eat more fruits and vegetables and get regular physical activity often perform better in the classroom."-Network For a Healthy California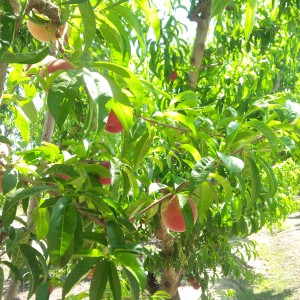 Fresh peaches grown in Dinuba, CA and shipped fresh to our school cafeteria.
In addition to the farm to school produce we receive, there are a number of other products that we are proud to have on our menu due to their local sourcing of
Hollandia Milk and Dairy: Our milk is sourced from a local farm in San Jacinto (just outside Hemet), where the cows are NEVER treated with rBST (a synthetic growth hormone given to dairy cows to increase milk consumption). The cows are raised under optimal conditions in order to provide the highest quality milk possible.
Greenbellies  is committed to partnering with schools, families and communities to improve the quality of nutrition available to our most precious resource, our children. Green Bellies products are all natural. They use whole grains and flavor the food with herbs and spices, not just salt. All Green Bellies products are free of processed sugar, processed white flour, harmful additives and fillers. Sweetwater has offered a variety of Greenbellies products on our menu, from Italian and Mexican sausages to a tasty honey mustard dressing.
California Grown Brown Rice