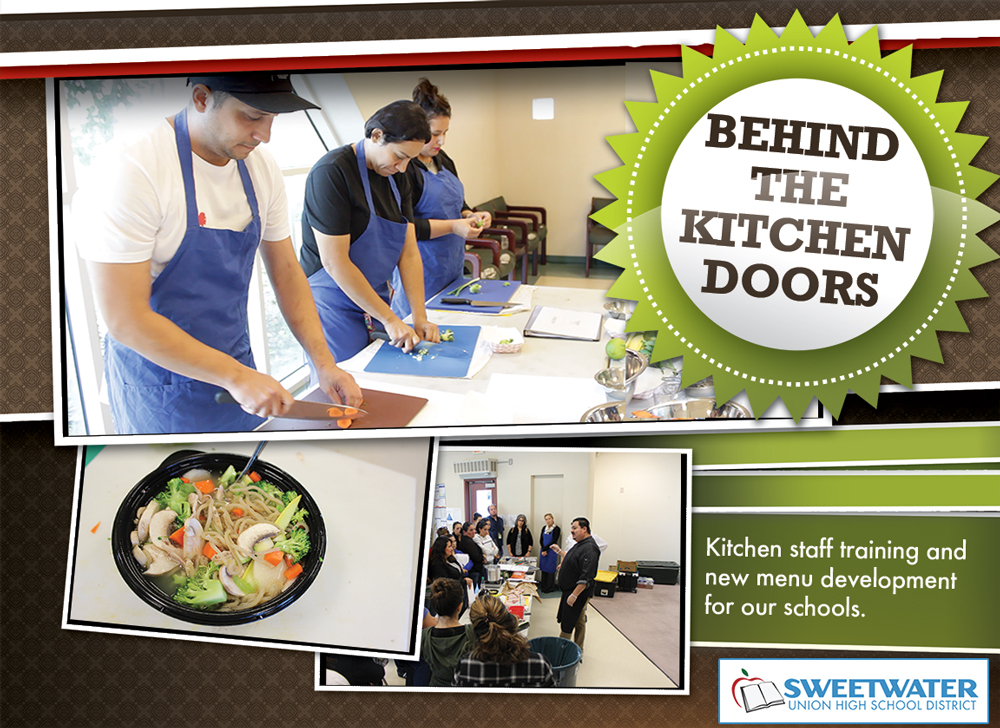 A series of articles designed to look at the people and processes that are making Sweetwater Union HSD's Nutrition Services department a pioneer.
TRAINING THE PROS & DEVELOPING NEW RECIPES
by Larissa Casillas
Jonathan Morris, the Nutrition Services Area Supervisor at Sweetwater Union High School District, remembers seeing something during his site visits that didn't align with the district's new wellness rule.
"I had been seeing some kids running around campus with a Cup-O-Noodles in hand," says Morris, who has been working for the district for 6 years, first as a site supervisor and now as the nutrition area services coordinator.
The students, explains Morris, were technically not supposed to have them. He suspects they were either bringing them from home or buying them in an underground market on campus. Regardless, he saw this as an opportunity to get creative and provide a homemade alternative to the sodium-heavy instant soup.
But he couldn't do this alone; he called on Chef Ron Troyano from Alchemy San Diego, who works as a food consultant for the district. Together they bounced ideas off of each other. The result is a vegetable noodle soup that mimics the flavor profile of the high sodium version, but is significantly higher in nutritional value.  
They're currently testing it out across Sweetwater Union HSD at cafeterias on 23 different campuses before they start officially serving it on their menu. Morris says the dish has been introduced successfully in some sites while encountering hurdles in others, so they're now fine-tuning it to make it consistent across all schools.  
This is what Morris likes to call the Pandora's box effect at Sweetwater Union HSD. An idea is born, and then different team players get to work to bring it to life, involving many different aspects. The process couldn't be complete without the input of students and the proper execution of staff.
One example: Morris says he always keeps in mind the labor intensity of meals when coming up with new recipes. Therefore, to cut some of the prep work for the all-natural Noodle Bowl dish, he used USDA frozen fresh vegetables to minimize the chopping.
The team then worked on the preparation of the broth and tested out different noodles to see which kind worked best.  
One of Morris's other recipe creations that have been successfully implemented into the menu is a vegetable fritter made out of poached tomato, onions, pureed black beans and garbanzo beans, and spices.
Morris comes from the restaurant industry and remembers not having to deal with nutritional guidelines.
"You have to be able to walk the fine balance as a responsible business," he says of his recipe development.
The district has moved away from heat-and-serve foods filled with preservatives, fillers, and soy or vegetable-textured protein.
While he says most kids are happy with meat, cheese or some kind of carb for lunch – you can't cater to that all of the time. So he finds himself having to get creative to be able to serve healthy food that kids are actually going to come for.
And as the district's nutritional outlook has shifted, so has their equipment to facilitate the scratch cooking and other techniques they're now doing. This has been the ongoing procurement process of finding the right equipment: refrigerators, ovens, pots and pans, hot boxes and knives.
Similarly, the staff training is an ongoing process at Sweetwater Union HSD.
Chef Ron Troyano estimates some 220 staff members at Sweetwater Union HSD have gone through their training. Everyone from line cooks, assistants, and managers have been taught safety measures, proper food handling, and knife skills.  
They also do site-specific training.
Troyano says morale-boosting and motivational training are also important components of their training. "The tired, old lunch lady stereotype is something we want to get away from," he says. "We want to motivate the staff and show them that hands-on cooking can be rewarding and fun as opposed to heat-and-serve."
Troyano says the camaraderie that already exists at Sweetwater Union HSD is one of the best parts about teaching there.
"At my last training three weeks ago, everyone was coming back from winter break and the staff was giving each other hugs, saying 'it's so nice to see you again'," he recalls.
As for Morris, he says the best part about his job is his interaction with the students. "My customer base is really cool, they keep you energized," he says.
He's noticed other districts are jumping on board seeing what Sweetwater has been able to do to serve cleaner, more nutritional food. "The push for better food in schools is a mark that we need to keep up with in time," he says.