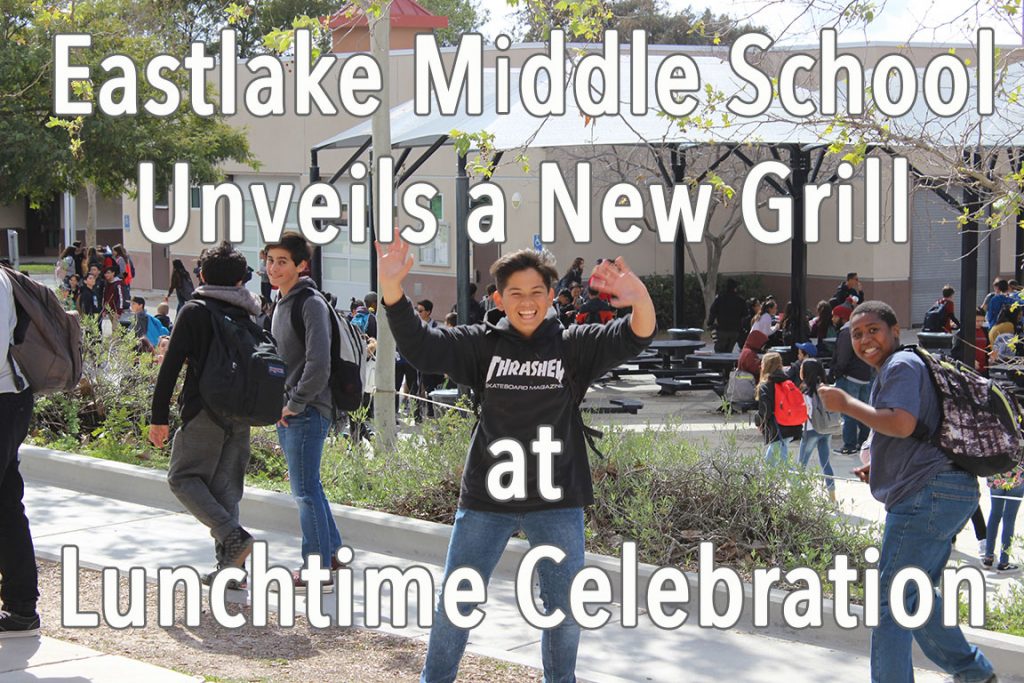 The latest in a series of brand new barbecue grills was unveiled during lunch at Eastlake Middle School on February 21. Nutrition services team members christened the grill by serving up all-beef hamburgers, barbecued baby back ribs, tuna melts, and a hot dog that critics have called, "the best in America," to excited students.
All school meals conform to federal nutritional standards, but the grills offer an expansion on the current menu. The new menu items include lean meats that are lower in saturated fats and are part of a larger shift towards a greater variety of nutritious foods, including new vegetarian and vegan items. The new grills are a departure from traditional school lunches, elevating school food and creating a more inviting atmosphere on campus. Students were visibly excited about the changes.
Several members of the school district community were on campus to support the new addition, including Eric Span, Director of Nutrition Services, Moises Aguirre, Assistant Superintendent of Facilities and Operations, Ricardo Cooke, Eastlake Middle School Principal, and Frank Tarantino, School District Board Member.
Multiple media outlets also attended the celebration, including San Diego Union-Tribune (photo gallery here), Channel 8 News, KUSI, and Univision TV. Even students were interviewed!
Eric Span, Director of Nutrition Services for Sweetwater Union School District, says that rolling out grills to all of the middle and high schools is a response to student requests for more lunch options. One central cafeteria sometimes causes students to spend more of their lunch period in line than enjoying their lunch. By increasing the number of locations that students can get food they are able to spend more time eating it before going back to class.
Aside from adding tasty lunch options, there are a number of benefits to the new grills: increased student nutrition, reduced food waste, and increased student excitement and engagement in school lunch. The grills create an undeniably fun atmosphere. Today, speakers filled the Eastlake Middle School lunch area with music, while the scent of freshly grilled hamburgers and hot dogs enticed students waiting in line. There was even an appearance by the Triton mascot!
In addition to these new grills, salad bars will be rolled out to schools over the coming months, offering each student a variety of healthy lunch choices. For $2.80, students can choose a main entree (hamburger, ribs, hot dog, or chicken) and a side (such as mac 'n cheese) from the grill, plus a fruit and a drink. Traditional lunch options are available in the cafeteria as well.