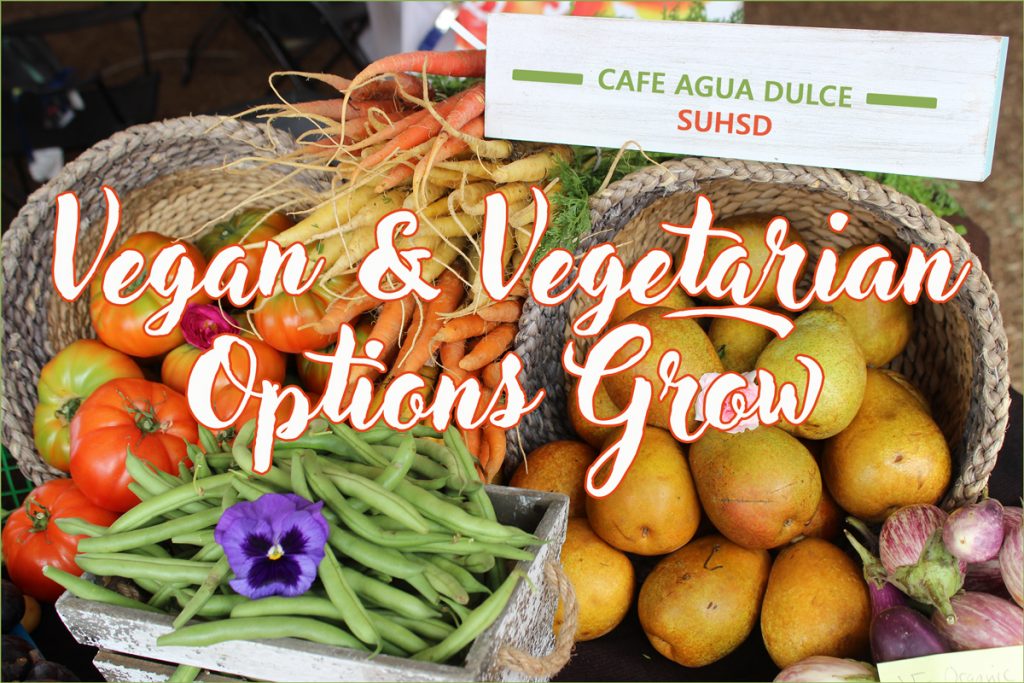 Sweetwater Union High School District is a leader in San Diego County for offering fresh, tasty, clean-label foods that defy the decades-long stereotypes of school food. The meals are more creative, using locally-sourced ingredients and meeting federal nutritional regulations. The menu is expanding in many ways, now offering more vegetarian and vegan menu items.
Sweetwater Union schools have offered vegetarian and vegan options for years, but they often felt like an afterthought. This might be because they were in many other areas. Federal regulations require each meal to have a certain amount of protein, so most of the vegetarian meals were packed with beans and cheese.

Nutrition Services is now getting more creative and focused on building vegetarian and vegan options. The goal: menu items that everyone, even the teachers and the meat-eaters, will want to eat.
There were two main motivations for the shift to develop more vegetarian menu items. The first was the students themselves. There have always been vegetarian students at Sweetwater Union schools, but they want meals that aren't so reliant on dairy.
"Sweetwater Union wants to be forward thinking and responsive about the meals we provide to students, so we're happy to accommodate their needs," says Eric Span, Director of Nutrition Services. This request follows USDA MyPlate recommendations for protein sources that are naturally low in fat.
Soon after, the vegan students came forward, asking for options that meet their needs, too. For Span, vegetarian and vegan student voices matter as much as everyone else's. Just like schools provide equal access to fresh produce, schools should also provide equal access to alternative foods.
"We want our cafeterias to be welcoming and inclusive to all students, which is why we're working on these new vegetarian and vegan options for breakfast and lunch," says Span. "We're working to fit these items into how we see food in general. By doing a little thinking outside the box, we can have menu items that meet federal nutrition requirements, are vegan, and taste great. That's really what the students care about. If the food tastes good they'll eat it."
The second motivation was a school nutrition conference last year. There, Span met Lauren Pitts, from the Humane Society of the United States. Their free culinary training programs help school kitchen managers adopt more plant-based foods. One such training will introduce innovative plant-based menu items at Otay Ranch High School. The training will also help make these items more appealing to students.
Based on this training, Lauren and the nutrition services team are working together to test new items with students. "If the meat eaters also like these choices we'll be in a really good spot," says Span. Taste is key when it comes to making smart choices for school lunch.
SUSHD is also piloting The Smarter Lunchrooms Movement at Montgomery High School and Eastlake High School. This program uses strategies from marketing, psychology, and economics to help schools create an environment that makes choosing healthy food easy. These solutions also lead to reduced food waste, and increased school lunch participation, student satisfaction, and nutrient-rich food consumption.
Variety is the spice of life for vegetarian and vegan menu options
Students already have a vegan entree option for breakfast and lunch every day. Some days this means a falafel wrap, other days it's a Southwest salad. Additionally, all the sides are vegetarian, and most are vegan. Even with all the delicious options, the district is getting requests for more variety. Answering them is the first step in a long-term strategy for a more inclusive nutrition program at Sweetwater Union.
To add more variety, cafeterias are testing out new flavor profiles from around the world. Food suppliers for Sweetwater Union cafeterias already provide vegetarian and vegan items. Even the schools themselves are providing items from their blossoming school gardens. A shining example is Southwest High School's chicken farm, which provides fresh eggs for the cafeteria.
"These new menu items are helping our cafeterias break the mold of what a traditional school lunch looks like, and we're really excited about that," says Span.
What else is on the horizon for Sweetwater cafeterias? Some of the new foods Span and his team are experimenting with involve edamame and falafel. These are both great sources of protein and add a lot to vegan meals.
Keep an eye on your school menus over the next few months and let us know what you think of these new options!