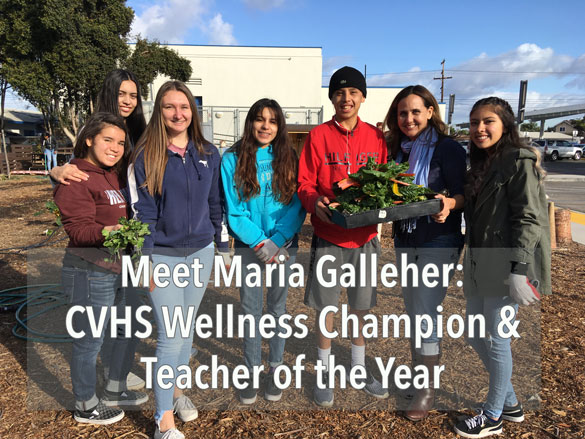 Most mornings, Maria Galleher and a couple dozen students can be found in the garden at Chula Vista High School. She gently calls out instructions to groups of students, though this late in the school year most of them don't need direction. Everyone has a job in the gardening class: some use shovels to turn the compost while others clean tools and buckets, wash the day's harvest, and rake the soil.
A great variety of edible plants thrive in the organic garden, from kale and rainbow chard to green and red lettuce to an overflowing herb area. With so much flourishing greens, it's surprising to learn that the garden was a patch of mud and dirt only two years ago. At first the dirt couldn't keep anything alive, and it took a labor of love to turn the dirt into the productive garden it is today. But Mrs. Galleher was not without help: every day her students worked the dirt, learning while doing to turn it into healthy soil. She also enlisted help from outside organizations to donate supplies and provide science-based lessons in gardening.
Teacher of the Year
It was these efforts that landed Mrs. Galleher the Teacher of the Year award for Chula Vista High School. She was humbled to receive the award in light of the many wonderful teachers at Chula Vista High School, but she's proud to represent a school that addresses the needs of the whole child. "It's incredible how supportive the teachers and administration have been," she says. "Teachers use the garden's outdoor classroom space and several have donated money for crops or donated their old gardening tools."
Mrs. Galleher also represents her students. "They've made incredible changes to the overall beauty of the campus," she says. Mrs. Galleher uses the garden to teach her students about symbiotic relationships and organic pest control. "Everything is organic, which means there are no pesticides here," she says. Planting companion species together, such as tomato and basil, reduces the need for pesticides. When pests do become a problem, natural solutions are introduced. Ladybugs control aphids, native birds gobble up tomato hornworms, and spiders eat up just about everything else. Students also lend a hand by washing aphids and whiteflies off leaves with water and a drop of peppermint soap and embark on worm gathering expeditions.
The garden is as sustainable as possible, which helps reduce costs. "Nothing goes to waste, right?" Mrs. Galleher prompts her students as they tend the garden. Discards from the harvest, including brown leaves, garlic ends, and citrus peels, are added to the compost. A bucket under the standalone sink collects water from washing the produce, which is then given right back to the plants.
Each student is responsible for nurturing the plants, and the pride they have in their results is obvious. Who knew high school students would get so excited to pull up a beet? Mrs. Galleher is especially proud when her students share their bounty with other teachers, saying, "It strengthens the bond between them and fosters a mutually respectful relationship."
Food as a vehicle for learning and healing
"Does anyone want to make a smoothie?" Mrs. Galleher asks. A chorus of enthusiastic "yeah!"s erupts, and students rush to gather around the blender. They add freshly picked cilantro to a mix of spinach, frozen pineapple, and a big squeeze of lemon and take turns passing around sample sized smoothie tastes.
On a griddle in room #807, Mrs. Galleher helps a few students sauté handfuls of chopped rainbow chard with olive oil, garlic, onion, and a sprinkle of sea salt, fresh cracked pepper, and oregano. The students, some of whom had never even heard of chard before this class, crowd around the griddle to scoop the sauté onto tortilla chips. Many take seconds and thirds until there's none left.
Learning beyond the classroom
The students are learning more than how to take care of a garden, they're also discovering more about what they eat. Even better, they're passing this information on to their families, changing eating habits at home. One student has stopped eating food with high fructose corn syrup as the first ingredient, while another encouraged her whole family to cut back on soda. Overall, students and their families are eating more fruits and vegetables and less junk after learning what goes into their food. They're even empowered to bring some of the produce home to make vibrant salads for their families, taking a greater role in their individual and family health.
The benefits of the garden extend beyond Mrs. Galleher's classroom. Students passing by the garden on their way to class pluck ripe cherry tomatoes for an on-the-go bite. "They're better than candy," she says. She even shared a rainbow chard and queso taco with a teacher who had never tried chard before and was hesitant. When she convinced him, he liked it! Mrs. Galleher hopes that, "the next time he goes grocery shopping he won't be intimidated by new foods." Changing adult and student minds about food is a source of pride for Mrs. Galleher.
Even though the Chula Vista High School garden is flourishing, Mrs. Galleher says this is only the first step. Eventually she wants the garden to be able to supply a year-round fresh, organic salad bar for the school cafeteria. Ideally, she'll be able to supply fresh produce for more than just Chula Vista High School. Sweetwater Union HSD already purchases food from schools in the district, including eggs from the chicken farm at Sweetwater High School. Could Mrs. Galleher's garden be the next student-run farm to supply the district with fresh food? There are plans in the works to expand the garden, transforming other areas of unproductive dirt into an orchard, a pollinator garden, and (fingers crossed) a chicken farm. If Mrs. Galleher and her students continue to see this level of success, all of Sweetwater Union HSD students might be enjoying a CVHS-grown salad bar.
By Lindsay Mineo