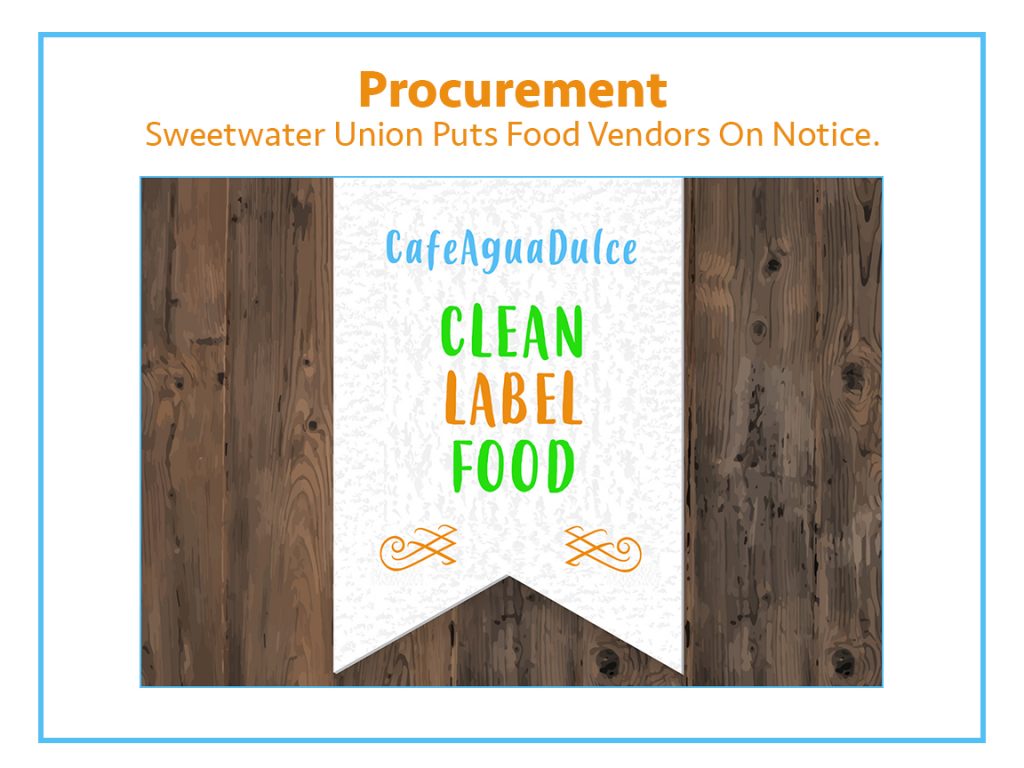 by Larisa Casillas
Gone are the days of frozen and reheated, out-of-the-box cafeteria food with a high degree of processed ingredients.
As more and more schools districts switch to nutrient-dense and fresher food choices for their students, Sweetwater Union High School District – the second largest secondary school district in California – has positioned itself as a nutrition innovator through a collaborative effort by many nutrition-forward individuals.
The emphasis for the district today is on clean label foods: those containing natural, familiar, simple ingredients that are easy to recognize, understand, and pronounce, with no artificial ingredients or synthetic chemicals.
On the district's menus, you'll find entrees and side dishes like fresh fruits and vegetables, confetti rice, almond biscuits, freshly prepared hummus, and chicken edamame – all of which are served to the community's 42,000 students.
And although perennial favorites like pizza are still on the menu, the difference now is in how the ingredients are sourced.
"The cleaner the better", says Amber McCelland of Waypoint Foods, a distributor, who has been working with Sweetwater Union for a little over three years.
McClelland works with many other districts in the state, and says some are more progressive than others. "Things have changed a lot," she says.
As a food broker, she helps to source what the district wants from different vendors and bring the menu to fruition according to the guidelines that the district sets.
She says Sweetwater Union High School District is moving toward clean labels and speed scratch cooking methods for fresher food, and remembers the stark difference from the way cafeteria food was when she was in school in the 90s.
McClelland says a lot of this had to do with Michelle Obama's campaign Let's Move!
Let's Move! was able to influence the U.S. Department of Agriculture in 2012 to establish new rules that were meant to improve the nutritional quality of the meals served at public schools nationwide.
It was the first major revision to school meal standards in 15 years.
"Many children consume at least half of their meals at school, and for many children, food served at school may be the only food they regularly eat," the campaign emphasizes on their website.
Suddenly sodium quantity mattered, there were whole grain requirements, and calorie counts.
No more soda, either.
But another player in this nutrition shift that has taken place at Sweetwater High School District is Eric Span, the district's Nutrition Services Director, who came with a culinary background 6 years ago.
He credits this culinary background for his ability to judge the quality of food.
Span remembers that when he came aboard, he took a look at the menu and saw ingredients like soy, vegetable protein and mechanically separated meat.
Also, the food that was tray-to-oven, oven-to-plate.
"I wouldn't want to eat that or feed it to my own kids." he says.
He now asks other staff members, 'Is this something you would serve to your own kids'?
Span says the biggest roadblock to achieving this healthier menu was retraining the staff who at first had concerns about handling raw chicken or manually preparing more of the food themselves.
"We want to be able to shred our own pork," he says.
But with a little push they were able to re-train the staff on a large scale, teaching them safety procedures and quick scratch cooking methods.
He knew it could be done.
He's also been able to bring on other staff members who have backgrounds in cake design, are former chefs, and even registered dieticians.
He notes that it's the same budget they're working with, the only difference is how they move the dollars around.
Sweetwater Union High School District participates in an opportunity bid buy program, where they bid on produce or cuts of meat that are surplus stock from chain restaurants. This allows them to provide more choices and high-quality ingredients for good prices.
He estimates some 16,000 lunches are served daily.
Recently, Span has been actively involving students from across the district, asking them what they want. One surprising answer that has been more prevalent lately: more vegan options.
There are vegetarian options on the menu now, but Span says he's always looking to give the kids more choices.
"You have to be innovative, because you don't want them to throw food away," he says.
"A lot of times it's introducing them to fruits and vegetables," and he notes that he had never tried a persimmon until he did so in one of the school lunches.
Span says their long-term goal is to go micro-local.
The district would like to be able to grow and produce the majority of the food they use, which can be grown on the district's own school campuses.
The district has already secured a USDA farm planning grant to launch a sustainable garden at Southwest High School, and they're looking into more grant opportunities.
"We are innovative," Span says, "but I don't want to downplay the movement that's happening with school food in our country. As the largest secondary school district in California, we're uniquely positioned to impact the community."