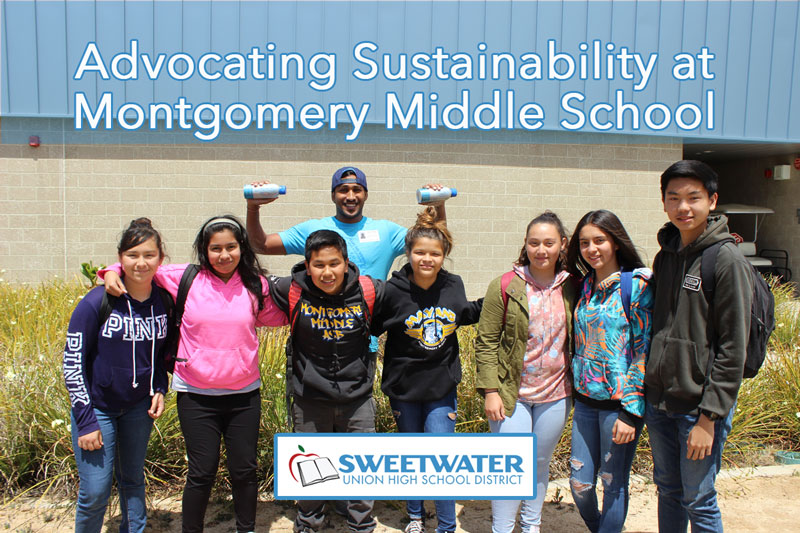 The plastic problem is well known. People of all ages are more aware of their impact on the planet's limited resources. Unfortunately, sustainable practices aren't yet mainstream. Take water: the average American uses 167 plastic bottles every year, but 77% of those end up in landfills or the ocean.
The Garden Club students at Montgomery Middle School chat about this while in the garden a few days before Earth Day.
"I'd like more people to take care of the Earth," says Yasmine, a 7th grader. Fellow club member Daisy, also in 7th grade, agrees. "People can use more reusable bags instead of plastic," she says. "We have lots of reusable bags at home. When we do get plastic bags we reuse them."
Yasmine, Daisy, and the other club members also understand the value of water. Today the soil is still damp from rain, but the students describe how a lack of water affected their harvests last year. The strawberries withered once they stopped watering the plants, a lesson any first-time gardener must learn.
When they have successful harvests, the students are allowed to bring produce home. "I always take home lettuce because I like making salads," says Daisy. Celeste, an 8th grader, usually takes home zucchini and potatoes but says, "yesterday I took home a huge onion!"
Young people are perhaps more motivated to find sustainable solutions to modern environmental issues. Earth Day, which is this Sunday (April 22), is a powerful reminder that small changes can make a big difference. Helping to spread this message on campus is Gulshan Kumar of Path Water. Sold in Cafe Agua Dulce (and convenience stores statewide), Path Water is a California company that's turning to aluminum as a plastic alternative.
"We want this generation to think differently about water," says Kumar. "We want to make it easier to switch from single-use plastic bottles to reusable aluminum."
Why aluminum? The big benefit is that aluminum water bottles are reusable (it's not recommended to reuse disposable plastic water bottles). They're highly recyclable, using five times less energy to recycle than plastic. Aluminum also does not leach chemicals into the water, which can happen with plastic. The cherry on top is that aluminum preserves the water temperature, keeping water cool for hours.
Reusable water bottles have another benefit that makes Director of Nutrition Services, Eric Span, happy: water is the healthiest drink. "We want water to be the first drink choice for students," says Span. "By promoting water as the first choice drink, students can stay hydrated and may avoid sugary, high-calorie drinks that contribute to the childhood obesity epidemic."
Water is also the more sustainable option. Federal nutrition guidelines require schools to provide milk to students, which some students don't want. This can lead to wasted milk, packaging, and money. Many schools are implementing hydration stations as part of waste reduction initiatives, but not all students have reusable water bottles. Aluminum bottles give students a healthier drink choice at a low cost and help schools save money.
Small actions, like switching to a reusable water bottle, can have a huge impact on sustainability. Remember the statistic that the average American uses 167 single-use plastic water bottles each year? Path Water co-founder and CEO Shadi Bakour says, "If we can reduce that number to 1 per month, it would be a massive reduction in plastic waste."
Reusable water bottles can also have an impact on health. People largely turn to plastic bottles out of convenience, but there's a misconception that bottled water is healthier. In reality, the big water brands use filtered municipal water – the same you get from your tap. Having a reusable water bottle on hand both encourages students to choose water first.
Garden Club students got a sneak peek, er, taste, of Path Water. Eyeing the abundant crop of mint in the garden, Eric Span suggested the students add a few leaves to their water for an infused flavor. The students crush the leaves in their fingers, drop them in, and take a sip.
Aluminum seems to be a win for sustainability, health, and convenience, but its adoption may come down to appearance. "Path Water bottles look cool, and that makes kids want to use them," says Kumar. "But there's so much more behind it. A person with a reusable bottle is making a commitment to live a healthier and more sustainable lifestyle." They're helping take care of the planet – even if they don't realize it.