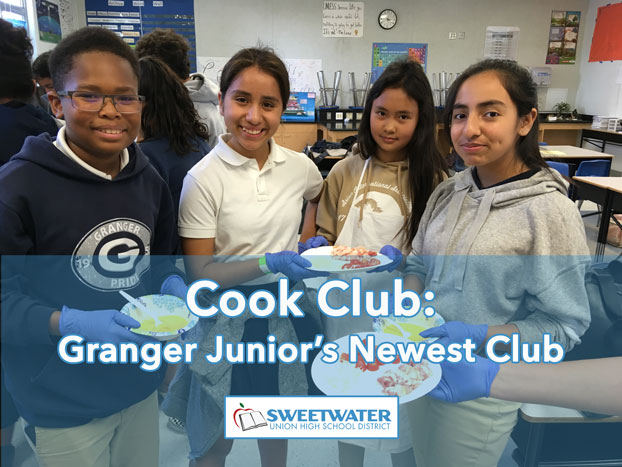 Cooking, for many junior high students, often means adding hot water to a cup of noodles. But Cook Club members at Granger Junior High are learning how to cook for real. So far the students have whipped up crepes, fried rice, Belgian waffles, and chocolate fondue complete with sliced fruit and marshmallows. Today's dish is a little more complicated: pasta carbonara.
"If you order pasta carbonara in a restaurant it can cost anywhere from $10 to $20 for a plate," says Antonio Gutierrez, the club's advisor. "But you can get all of the ingredients to make it for a family of four for under $10."
Cook Club is only a few months old but it already has over two dozen members. The club's president, Isaias, learned about the different clubs Granger Junior had to offer while at his previous school.
"But when I came here, nothing really fit," he said. "What I wanted was a cooking club."
Isaias was not alone. He and other students approached a few teachers to support them. When Mr. Gutierrez found out about their efforts he was just as excited as the students. "I teach science and AVID, but one of my passions is teaching culinary arts," he says.
In fact, Mr. Gutierrez once auditioned for the Food Network and still loves hosting dinner parties with his wife. Now, Mr. Gutierrez is an educator by day, and a Personal Chef hosting limited-engagement pop-up restaurants at night. Despite his self-taught culinary skills, Cook Club is entirely student driven. Not only did Isaias and the other officers take the lead on establishing the club, but they also lead the lessons, direct other students, and take time before and after the club to prep and clean.
"It took a lot of steps to start Cook Club," Isaias says. He started the process in September 2017, but the club didn't have its first meeting until January 2018. During that period he and other students registered the club with ASB and raised funds to buy ingredients and equipment. It takes a lot of planning for a couple dozen chefs-in-training to cook at the same time!
The weekly menu is decided in a vote at lunch on Tuesdays in Mr. Gutierrez's classroom. The challenge is finding recipes that don't have too many steps (Cook Club is only an hour long) and that can be made using electric hot plates. Without an oven, some recipes that students want to make are out of reach, such as cakes and brownies.
"We try to find recipes that use the fewest number of ingredients to make it more doable in the classroom," Mr. Gutierrez says. He also tries to steer the club towards healthier options. "I'd love to try making salsas."
Using few ingredients can also help the students realize how achievable cooking is. "My goal is to demystify cooking so they'll try it at home," he says. "Food cooked at home is so much healthier."
Granger Cook Club meets every Thursday at 3:15pm. The first students to arrive help sanitize the tables. For the pasta carbonara, they set up cook stations with hot plates, pans, and tongs, and prep stations with Asiago cheese, eggs, bacon, and tomatoes. Mr. Gutierrez constantly reminds students to wash their hands and reviews how to safely handle equipment. Because they'll be handling uncooked bacon, everyone gets a pair of gloves.
"We can use uncooked bacon because it's salt cured," says Mr. Gutierrez. "But other uncooked meats are off the table in this setting."
Pasta carbonara is a little different than other pasta dishes because it uses a mix of egg and Asiago cheese as the sauce. Al dente pasta is finished in the pan with the bacon (and optional cherry tomatoes), and the egg and cheese mixture is stirred in at the end to create a sauce-like coating. "This makes it lighter than other pasta dishes, like fettuccine Alfredo," Mr. Gutierrez says.
After a demonstration of techniques, students break up into groups and prep their ingredients: chop bacon, slice tomatoes, shred cheese, and crack an egg. One student scrambles the egg with cheese, while another cooks the bacon and a third keeps an eye on the pasta. Often the fourth group member takes pictures or calls out reminders.
"Stir! Stir! Stir! Don't forget to shake!"
Mr. Gutierrez demonstrates how to twirl the pasta in the pan and slide it onto the plate. Students delicately sprinkle shredded Asiago cheese for garnish and add a pinch of salt and pepper. "Make sure you get a photo of the cheese!" one student tells her group-mate.
At last, the reward for their labor is enjoying their pasta. The verdict?
"Wow, this is delicious!" A surprised Aracely says after her first taste. Her partner Tayshawn contemplates a few bites before deciding, "I like it." Neither have had pasta carbonara before, and both preferred it with the tomatoes. "It's sweeter," says Aracely.
Sandy has had shrimp scampi before but now wants to make pasta carbonara at home. "This is better!" she says.
Hopefully, Cook Club will result in more Granger Junior High students cooking for themselves and their families. Realizing how delicious meals can be with just a few simple ingredients can give students the courage to try new things and experiment with their own recipes. These basic skills will benefit them through high school, college, and the rest of their lives.
Want to try the same recipe that Granger Junior Cook Club used? Here's a link.